The Dukan Diet, also known as the princess diet. When Kate Middleton wanted to look fit and fabulous in her wedding gown, she chose the Dukan diet for weight loss success.The Dukan also reported to be followed by actress Jennifer Lopez and supermodel Gisele Bundchen. This diet claims dramatic results without requiring dieters to count calories or go hungry.
It is a protein-based diet designed by French doctor
Pierre Dukan.
The diet is based on a list of over 100 allowed foods, as well as four specific ground pillars also known as
phases
: attack, cruise, consolidation, and stabilization.
The Dukan method:
The attack phase is designed to enable dieters to rapidly lose 2 to 3 kilograms (4.4 to 6.6 lb) in 2–7 days by kick-starting their metabolism. Dieters are allowed to eat as much as they want of 72 protein-rich foods.
The cruise phase is designed to allow dieters to more gradually achieve the weight they aim for by eating protein-rich foods with the addition of 28 specific vegetables. The length of this phase is usually calculated as 1 kilogram (2.2 lb) of weight loss per week, but this is based on specific personal conditions. Tolerated foods are also allowed as per the programme, but any weight gain will ban some of these.
The consolidation phase is designed to help in preventing any future massive weight gain. During this phase, fruit, bread, cheese and starchy foods are reintroduced into a normal diet, leaving two celebratory meals a week as directed by the plan.
Finally, in the stabilization phase, dieters can essentially eat whatever they want without gaining weight by following a few rules:
protein day once a week
eating oat bran every day and making a commitment to "take the stairs". According to Dukan, dieters shall follow this last phase for the rest of their life to avoid regaining weight.

The official 100 Eat As Much As You Want Foods list:
MEAT AND OFFAL: Beefsteak, breasola/air-dried/wind dried beef, calf's liver, Fat reduced bacon, fillet of beef, game, kidney, pre-cooked ham slices (without any fat or rind), rabbit, roast beef, rumpsteak, sirloin steak, tongue, veal chop, veal escalope
POULTRY: Chicken, chicken liver, guinea fowl, ostrich, pigeon, poussin, pre cooked chicken and turkey slices, quail, turkey
FISH: Bass, cod, seafood sticks, dab/lemon sole, dover sole, grey mullet, haddock/smoked haddok, hake, halibut/smoked halibut, herring, mackerel, monkfish, plaice, pollock/coley, red mullet, salmon/smoked salmon, sardines, sea bream, skate, swordfish, trout (rainbow and salmon), tuna, turbot, whiting
SEAFOOD: Calamari/squid, clams, cockles, crab, crayfish/crawfish, dublin bay prawns, lobster, mussels, prawns/shrimps, oysters, scallops, whelks.
EGGS: Hen's eggs, quail's eggs
DAIRY PRODUCTS: Cottage cheese (low fat), fat free fromage frais, fat free Greek yogurt, fat free yoghurt, Quark (low fat), skimmed milk
VEGETABLE "PROTEINS": Konjac, oat bran, tofu
VEGETABLES: Artichoke (globe), asparagus, aubergine, beetroot, broccoli, Brussel sprouts, cabbage, carrot, cauliflower, celery/celeriac, chicory, courgette, cucumber, fennel, French beans, kohlrabi, lamb's lettuce, leek, lettuce, mushrooms, onion, palm hearts, peppers, pumpkin, radish, rhubarb, soya bean sprouts, spinach, tomato
Oat Bran:
Oat bran plays a very important role in the plan.Oat bran is nothing but the fibrous husk that surrounds the oat grain and is one of the staple foods of the Dukan Diet because of its many properties including making us feel fuller for longer and cholesterol reduction. You allowed to eat
1 and ½ tablespoons during the Attack Phase, 2 tablespoons during the Cruise and Consolidation Phases and 3 tablespoons per day during the Stabilisation Phase.
Special Benefits of Oat Bran:
Oat Bran is Delicious!

Ideal for breakfast as hot cereal or mixed with yogurt or cottage cheese. Oat bran can also be used to make savory pancakes, pizza crust, muffins, cookies and much more!

As the only source of carbohydrates during the Attack phase and Pure Protein days, oat bran brings an extra element of variety to the diet.

Oat Bran Helps Lower Cholesterol: Oat bran contains soluble fiber, which reduces the low-density lipoprotein (LDL), otherwise known as the "bad" cholesterol. The soluble fiber reduces the absorption of cholesterol into the bloodstream. When compared to oatmeal, on average oat bran has 50% more fiber and soluble fiber, making it much more efficient.

Oat Bran Creates a Feeling of Fullness:

Once consumed, oat bran enters the digestive tract where its soluble fiber absorbs water and forms a gel-like substance, creating a feeling of fullness.

Oat bran absorbs on average 25 times its volume in liquid. A tablespoon of oat bran, about half an ounce, forms a 13 ounce ball in the stomach.

The feeling of fullness and being less hungry leads to much less frustration while dieting.

Oat Bran Slows Down Sugar and Fat Absorption:

Once ingested, the bolus (the gel-like substance created by the oat bran and water) passes through the gastric acid, bile, and finally the pancreatic juices. This turns the bolus into pulp and reduces it to a mix of elementary chains, fatty acids, amino acids and glucose.This process both slows down the sugar assimilation and removes calories from the body by reducing the absorption of dietary fat, while keeping your blood sugar levels low and stable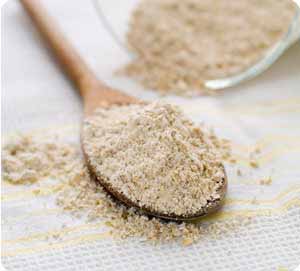 What is the difference between oat bran and oatmeal?
Oat bran contains about 50% more fiber and soluble fiber than oatmeal, making it more effective at lowering cholesterol and helping digestion. It also has more protein, calcium, iron, thiamin, phosphorus, riboflavin, magnesium, and zinc.
The main structural difference is that oatmeal (typically rolled oats) is whole grain, while oat bran is just the bran of the oat.
Finally, because oat bran is creamier (due to the finer texture of the product), it satiates hunger more than oatmeal.
For more information